Sales Orders are precursors to invoices. They allow the editing of item contents and partial shipments.  This is an excellent module for processing hold and ship orders and taking phone orders.  Partial shipment of items is allowed in a sales order, whereas an invoice is final in the sense that the contents of an existing invoice are not modifiable and the shipment of items is complete.  When an item is placed on a sales order, the item's allocated amount increases within the Inventory Control module indicated during the purchase order processing; noting that additional inventory will be needed due to the impending item shipment or sale.
On the other hand, a Quote does not adjust the allocated amount of an item.  The Quote creates a document that may be converted to a Sales Order at a future time.  When the Quote is converted, the allocated quantity for items is then reflected.  Quotes are not included in the recommended reorder reports.
Sales Orders have the ability of accepting payments, linking directly to Purchase Orders, and invoicing or shipping item(s) within the Sales Order.  Unlike an invoice, the contents of a Sales Order may be edited after the Sales Order; comments and directions may be added to further document customer instructions.
The Sales Orders module includes the ability to print, fax, or email the created sales order or quote.  System SO parameters and options are set in System | Company Setup | Properties | Sales Orders
1
and
2
.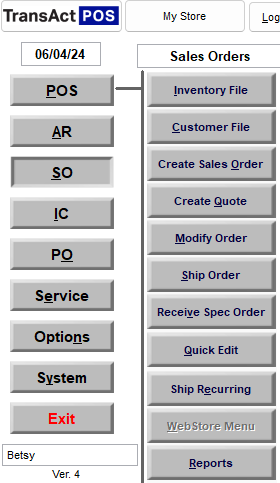 Sales Orders Submenus