The IOR Menu options are reflective of the subscribed communicating vendors present within the store TransActPOS Activation Code. The Select IOR Vendor menu will appear if the TransActPOS installation has more than one communicating vendor.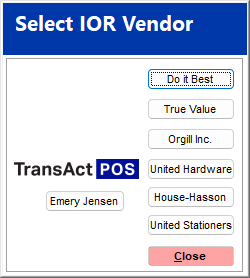 The Inventory Cycle consists of the these four tasks:
Creating an purchase order for products from a specific vendor

Submitting a purchase order to the communicating vendor within TransActPOS or emailing/calling the order to other vendors

Receiving the products purchased from the vendor upon receipt of the goods

Updating prices of all stocked products within the system for consistence store wide pricing.