Customer statements are individual customer reports containing all account charges (invoices) that are not paid in full.  There are two different formats for customer invoices: general and detailed.  Normally, an organization establishes a specific customer statement format for all customers.  By doing this, a single statement printing will produce statements for all customers and make the understanding of customer balances easier. To learn more of the options available on this screen, click
Customer Statement Screen Details
.
The majority of statement printing can be accomplished with the following 4 simple steps.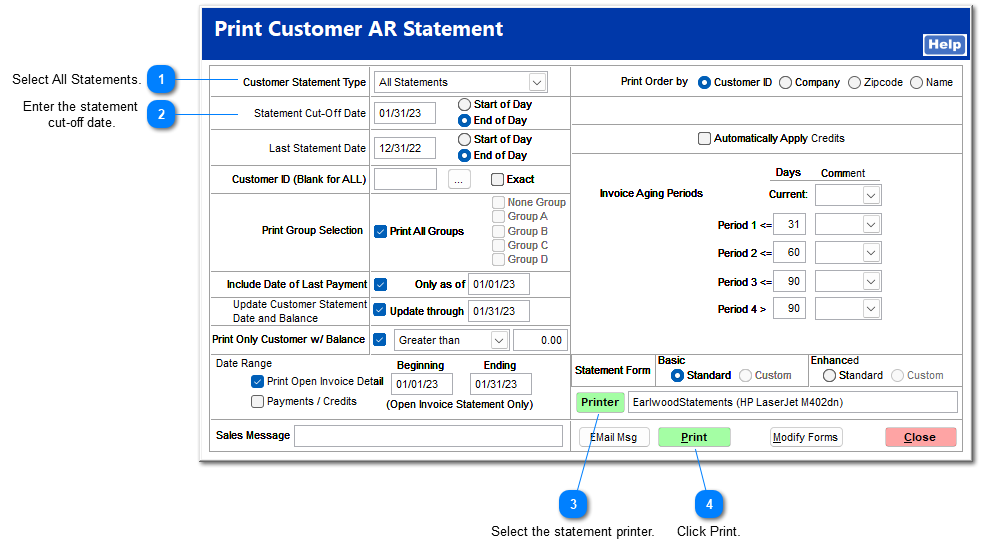 Selecting All Statements allows the system to automatically print or email the customer's indicated statement format automatically.

Enter the date and whether it is the Start of the Day or the End of the Day to report on the statement.  Typically, this is the last day of the month and End of Day after the store has closed for the evening.

Click the Printer button to select the printer containing the "Statements" in the name as the destination printer.

Upon selecting Print, the system will automatically print or email the customer's selected statement type and details, if chosen.  The behavior this process is based upon AR | Customer File | Settings | Statement Type and Email Settings.
The normal end of month process regarding customer statements is a follows:
| | |
| --- | --- |
| Customer Statement Types | Description |
|   | Reports all invoices with balances and unapplied credits regardless of origination date of the document. |
|   | Reports all invoices with balances, unapplied credits, and payments made since the last Balance Forward Statement.  The stated balance forward value is the ending balance of the previous customer statement. |
| Statement Option | Description  |
|   | Creates a separate detailed invoice report of invoice header information, item details, and electronic signature, if applicable. |
|   | Similar to the Balance Forward format, but includes line item detail below each invoice or credit. |
|   | Similar to the Detail Balance Forward format, but will also collate the printed statements and invoice details. |
| | Statements are e-mailed with a PDF backup file according to the statement type entered in the customer file. |